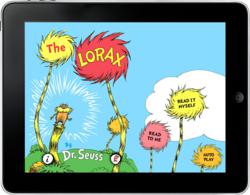 Oceanhouse Media, Inc. has announced that it will drop the price of

The Lorax

omBook (Oceanhouse Media digital
book) to 99 cents and offer the
Lorax Garden
game for free from March 2nd through 8th in honor of Dr. Seuss's birthday and Read Across America Day. In addition, 25 Dr. Seuss omBooks will be on sale ranging in price from 99 cents to $2.99 on iOS and Android markets.
The National Education Association's Read Across America is an annual reading motivation and awareness program that calls for every child in every community to celebrate reading on March 2, the birthday of beloved children's author Dr. Seuss.
"This is a great time to stock up on classic titles such as The Lorax, The Cat in the Hat, Green Eggs and Ham and Dr. Seuss's ABC for your mobile devices," said Michel Kripalani, President of Oceanhouse Media. "All Dr. Seuss omBooks include the original content and illustrations by Dr. Seuss and are enhanced with professional narration, background audio and features that promote reading and word recognition."
The omBooks feature three options: Auto Play (geared toward younger readers), which plays like a movie by automatically reading and turning pages; Read To Me, which allows users to listen to the narrated story with words highlighted as they are read; and Read It Myself, which lets users read the book in its traditional format.
About Oceanhouse Media,Inc.
Creators of the award-winning Dr. Seuss book apps, Oceanhouse Media, Inc. is a leading publisher of more than 300 mob
ile apps for iOS (iPhone, iPad, iPod Touch), Android, NOOK Color, NOOK Tablet, Kindle Fire and HP TouchPad devices. The company was founded in early 2009 by Michel Kripalani, a veteran of the video gaming industry. Seventeen of the company's apps have reached the number one spot within their categories on Apple's App Store. In addition, Google has selected the company as one of its Top Developers, a designation granted to only 150 groups worldwide.
About Dr. Seuss Enterprise, L.P.
Dr. Seuss Enterprises was founded in 1993 following the death of Theodor S. Geisel, Dr. Seuss, to conserve and nurture the works of Dr. Seuss by protecting the integrity of the Dr. Seuss books while expanding beyond books into licensed merchandise. The licensing effort is a strategic part of the overall effort to strengthen and protect the relationship consumers have with Dr. Seuss characters. Theodor Geisel said he never wanted to license his characters to anyone who would "round out the edges". That is one of the guiding philosophies of Dr. Seuss Enterprises.